ACCESSIBILITY AT BELSONIC IN ORMEAU PARK
At Belsonic we endeavour to provide accessible access for all. Please see below for information regarding our accessibility areas and procedures. If you require any further information, please email info@belsonic.com


ACCESSIBILITY PARKING: (LIMITED CAPACITY/EARLY ARRIVAL ADVISED)


Blue Badge holders can park directly across from Gate 1 on Ormeau Embankment. When arriving via car please enter through the Ormeau Road side of Ormeau Embankment. During our shows we enforce a road closure on Ormeau Embankment which is closed to unauthorised vehicles from 4pm until Midnight. When turning into Ormeau Embankment from Ormeau Road you will encounter our Security staff, simply show them your event tickets and your Blue Badge. Security will advise you to drive at a Maximum of 10 miles per hour and engage your hazard warning lights. This will help protect other customers who are on foot. On the map below you will see the Blue Badge Accessible Parking sign. At this gate again show your tickets and blue badge and the security will guide you to a parking place. Our Parking Area is large enough for wheelchair accessible vehicles to fully open doors and for back loading. Alternatively, if you are travelling by taxi or are being dropped off at the event, they can also enter through the Ormeau Road end of Ormeau Embankment and drop you off at the Accessibility Parking area. Please note for collections, cars will need to be on the Embankment from 10:20pm at the latest as no cars will be permitted to drive on Ormeau Embankment for at least 15 minutes after the show is finished to allow for a safe customer egress..
Accessible Entrancing:
There is a dropped curb at the pelican crossing directly to the left as you leave the accessible parking area. This will take you to the dropped curb on the 'Park side' of Ormeau Embankment. Security will direct you to the Accessible entrance at GATE 1 – marked on the map below. This is the most direct Gate to the Accessible facilities at Belsonic. When you arrive at GATE 1 your tickets will be scanned, and a member of our team will escort you to the Accessible Platform.
Accessible Facilities:
Adjacent to the Accessible Platform are Accessible toilets, there are also changing places located in the Medical Tent indicated on the map and in the Ozone Complex, also marked on the map. We have dedicated and trained staff onsite to help with any needs of our Accessible customers, simply ask any of the stewards at the Parking Entrance, Gate Entrances, Accessibility Platform, or any of the team from St John's Ambulance for directions or information.
DEPARTURE FROM THE ACCESSIBLE PARKING AREA IS NOT PERMITTED FROM 10 MINS BEFORE SCHEDULED SHOW FINISH TIME. THIS IS DUE TO ROAD CLOSURES FOR SHOW EGRESS AND ONLY REOPENS WHEN EVENT SAFETY CONTROLLER PERMITS THE ROAD TO REOPEN. 
We hope you enjoy your night with us and again for any more information please contact our team at info@belsonic.com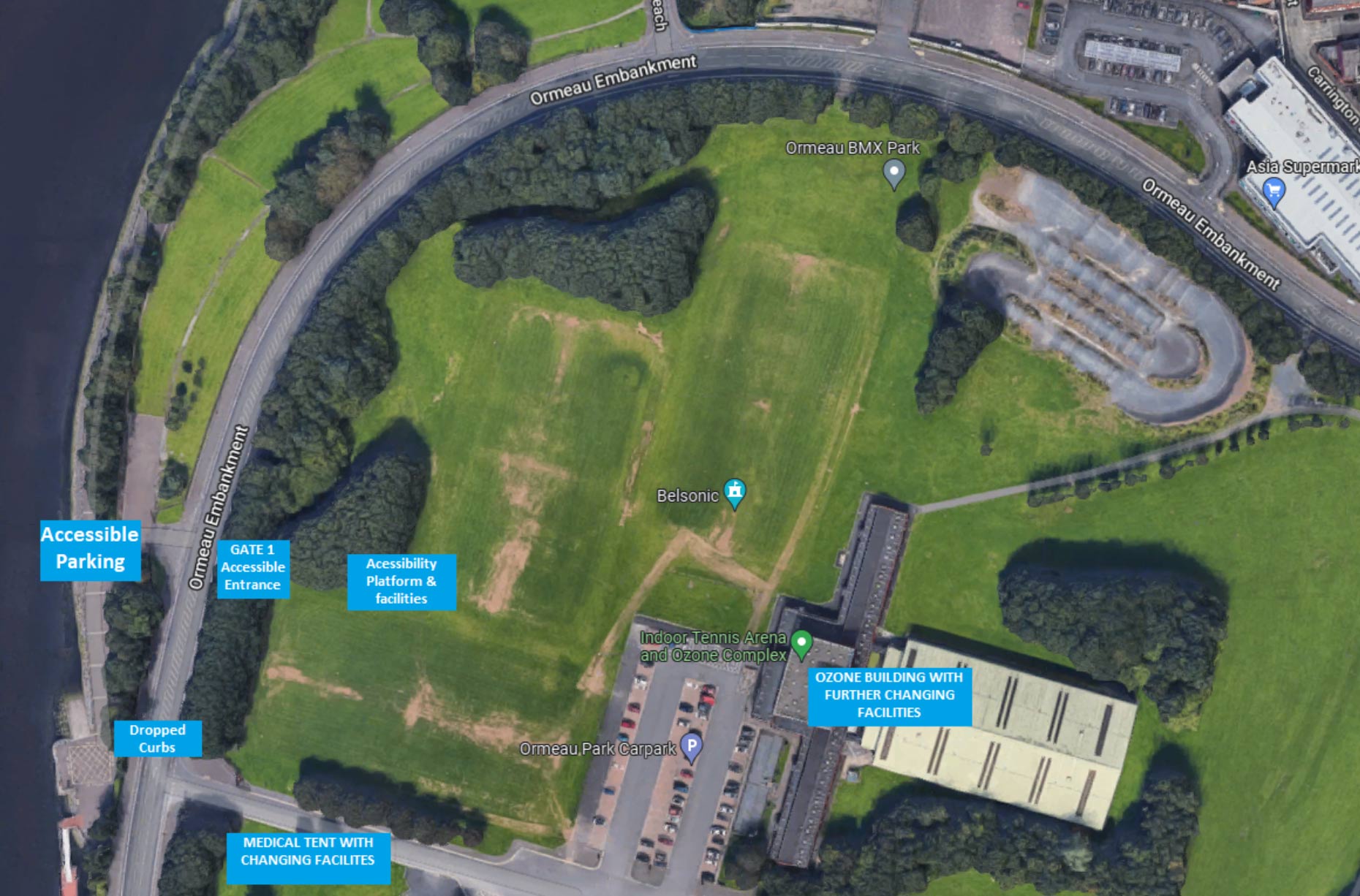 >